Is The Strategy Academy
Right For Me?
The Strategy Academy is awesome sauce, but it isn't for everyone. Get answers to frequently asked questions so you can make the best decision for you. Select from the categories below to quickly find what you are looking for: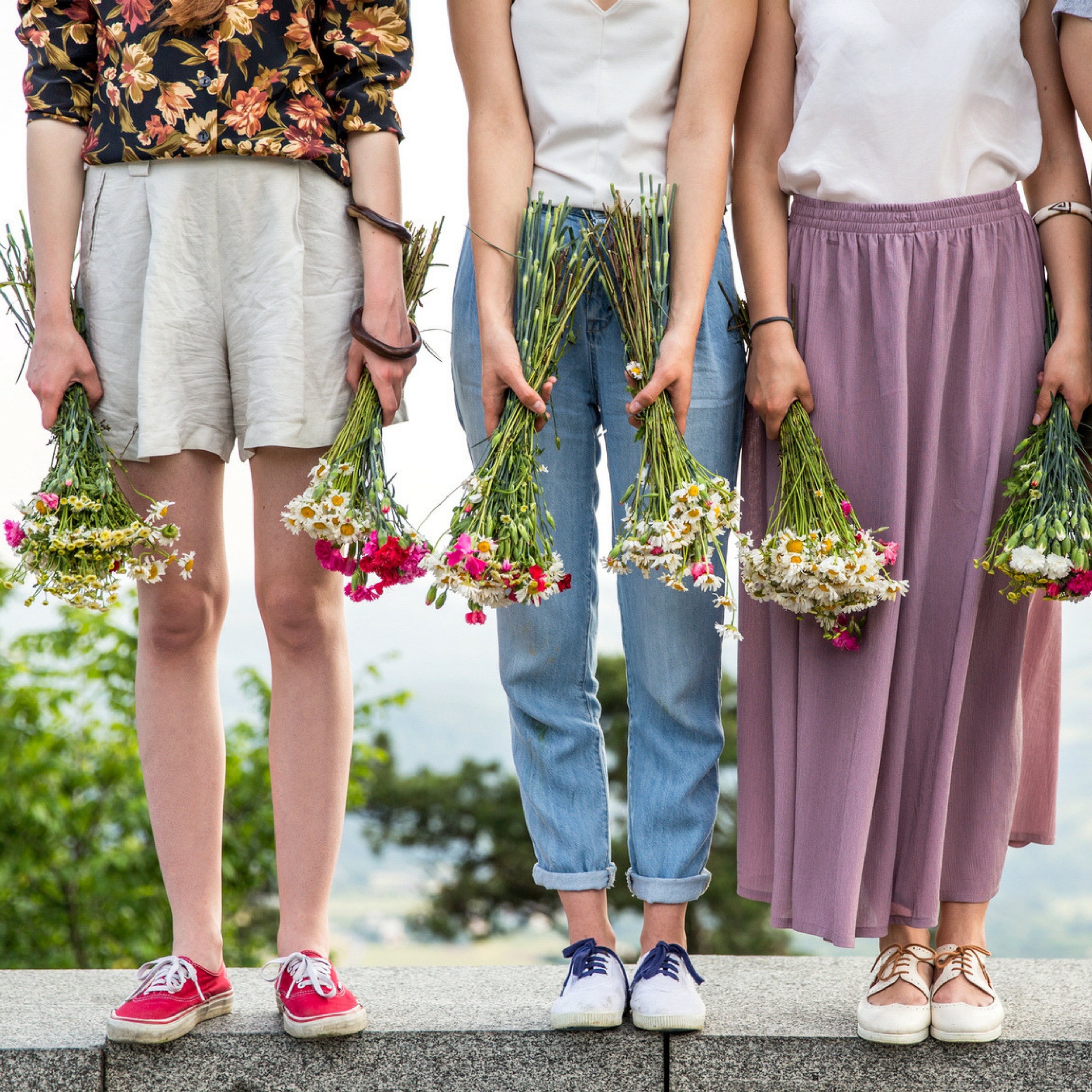 What is The Strategy Academy?
The Strategy Academy is a year-long online program for passionate creatives who want to build a productive, profitable and sustainable business online.
Still working a 9-5 and want to turn your creative passion into your full-time business? Do you imagine your business scaling beyond your wildest dreams? Or are you just starting out? The Strategy Academy can help you:
Reveal your why
Focus on your vision and goals
Validate your offer
Create valuable content
Maximize your systems
Build an irresistible brand
Grow your email list
Nurture your subscribers
Increase sales and profits
Narrow in on your niche
Pivot to your passion
Evaluate your customers
Get more done in less time
Learn proven marketing strategies
Scale your business
Plan for your future
Getting your business up and running requires clarity, vision and the ability to execute consistently on the right strategies. The Strategy Academy will fast-track your growth and save you years of expensive trial and error. Doing this alone is overwhelming and time consuming. So we made you a roadmap. A plan of action. A tried-and-true system to follow so you can feel confident about the future of your business.
Where does the program take place?
You have lifetime access to the program and bonus materials online so you can go through the modules over the course of 8-weeks, or you can slow it down and work at your own pace.
What are the dates?
You are welcome to get started right away on the program materials and bonuses that you unlock immediately upon enrollment.
If you're traveling or have other life commitments, it's not a problem. All students receive access to the program for life (and yes, that includes any and all updates we make). Not to mention our live monthly coaching calls.
How is the Strategy Academy different from other online courses?
The Strategy Academy isn't just a course with tactics that will get you pumped up and leave you hanging. It also isn't just tech how-to's without the explanation of how to actually use them to grow your business. Nope.
It's both. This course is different because it has the unique ability of time travel. It's a look back at the first year of our business (you, know the one where we reached 6-figures) and walks you through step-by-step what we did and why. It's taught in a way that doesn't make it just work uniquely for us, but can be copy + pasted into your own business.
I don't even take off my eye make-up every night. How would I ever have time for this?
A . No one's that perfect. B. Let me guess: you're surrounded by an Instagram feed to plan, client work, that run or gym class you need to knock out at some point today this week, and you need to figure out what's going on the table for dinner tonight—we get it! If you can commit to watching about 45 minutes of video training plus 1 hour a week on your homework, you can leave the rest to us: We're handing over our secrets, tools, files, systems, and wisdom (see: mistakes we wouldn't make again) on how we grew this thing. Our goal is to short-cut you and save you all the time so you can get there in a fraction of the time it will take you without this.
How much time do I need to commit?
This is fully customizable to how much time you have to dedicated and how quickly you want to see results. We'd recommend dedicating at least 3-5 hours per week if you want to go through the program at a steady pace.
Many of our students go through the course with the time they have now, pause and return later as their schedule allows.
If 3-5 hours a week seems like a stretch for you, don't fret. You get lifetime access to the materials and can easily work at your own pace, on a schedule you set. We realize that the majority of our students don't have the luxury of focusing on their business 100% of the time - either they have full-time jobs, or families to care for. While this course is meant to stretch you, it can also be tailored to your life.
This course has the framework, but ultimately it's up to you to put it in place. The more time and focus you put into the Strategy Academy, the more you'll get out of it. Other factors often affect how much time you'll need to complete the Strategy Academy including:
How quickly you are able to make decisions
The current momentum you already have in your business
Your comfort level with technology and other online systems
Whether or not you participate in the community aspect of the Strategy Academy
Whether or not you choose to complete every lesson and assignment
The Strategy Academy will challenge you to do more and be better. There are no magic pills, simple solutions or guaranteed results.
Running a business requires focus, courage and willingness to change. It isn't a "set it and forget it" approach to making money. It requires consistency, confidence and a never-give-up attitude. We know that you can do this, do you?
What support do you offer your students?
Lesson Comments Inside the course you'll have an opportunity to ask questions directly below each video lesson. Interact with other students and Team Boss Project.
A Supportive Community Join one of the most active communities online. Some have even called it their favorite place on the internet. In our secret mastermind you can share your thoughts, bounce around ideas and get quick feedback.
Group Coaching Every single month on the 2nd Thursday at 2 p.m. CST you'll get the opportunity to hop on live with Abagail & Emylee. Come with questions and leave with a swift kick in the pants to get major shiz done in your business. All calls are recorded so even if you can't make it live you can catch up on the replay.
Team Boss Project Support Having technical issues or simply need to discuss something a bit more personal? Email hello@bossproject.com and we'll take care of you right away.
Is there any one on one coaching?
There's not, and here's why: after working with clients providing one on one coaching, AND with clients in group coaching formats, the feedback's in — not only do our students in group coaching programs learn more, but they tend to go further. Simply put, group coaching settings give you the opportunity to get feedback from peers — plus, the added benefit of watching us coach other students, so you can apply learnings to your own business.
Here's how coaching works. Currently we're hosting monthly 60-minute group coaching calls. There's no additional curriculum to cover here — it's truly your chance to get feedback on your business and ask us anything. Can't make it? No big deal — all calls are recorded and housed in the private members area, so you can submit your question ahead of time and still have it answered.
If you feel that 1:1 coaching is necessary for your implementation and growth please reach out to us at hello@bossproject.com. We partner with an amazing coach that we highly recommend for you.
What will I learn?
We outline the course curriculum and bonus materials here.
Sure we cut through the B.S. and get down to business inside our video lessons and online strategies, but the materials we cover aren't a secret. Much of what you need to start and grow an online business is available right now for you for free online.
But information alone doesn't do anything for you.
The Strategy Academy is an intense experience meant to challenge you and spring you into action. It's about doing the work, having others see your talents and leveraging your skills to their fullest potential.
The Strategy Academy will fast-track your growth and save you years of expensive trial and error. Unlock the tactics and strategies that will make your dreams a reality.
You have the knowledge, skills and capabilities to be successful. You just need help tapping into your innate abilities. We'll uncover the heart of your business and turn those valuable nuggets into profit. Cha to the ching.
What isn't covered in the program?
We outline the specific course curriculum and bonus materials here.
If the topic you're interested in isn't mentioned in our course breakdown, it isn't something we cover. If you have specific questions, email hello@bossproject.com.
I'm new to this whole business thing. Is this for me?
Pour a cup of coffee and settle in, because Module 1 is made for you, babe. The curriculum kicks off with discovering your why and creating an actual product, so we can get you making real dollar bills. While these are touch points that you'll need to come back to again and again as a business owner, we think you'll find them especially helpful at this stage. Our goal was to build a program that helped an entrepreneur who'd been at the business thing for a minute, but also gave a brand new business owner—one with just dream and a passion—an A-to-Z blueprint to getting your idea off the ground.
Who is right for The Strategy Academy?
The total newbie. Just got an idea and itching to get the foundations laid? Get your thoughts organized and your path laid quickly and easily.
The seasoned entrepreneur. Ready for more? Take your business to the next level. Whether you're ready to hire a team, scale your products online or just clean up your act, the Strategy Academy is perfect for you.
People who want to grow their own tribe. Have your sights on the big time? Cultivate community and use authentic strategies that won't cost a dime.
People who want to rapidly grow. If you are ready to do the work, then you'll love the way this course becomes an essential part of your business. You'll use these tools everyday to launch new products, sell new services and grow like you never have before.
The busy body. You have laundry for days and dishes coming out of your eyeballs. You need something laid out simply and easily that is accessible for you on the go 24/7/365. You are ready for a system that is going to put your business on autopilot - and this is it sister.
Who's not right for this program?
The Strategy Academy is not for those looking for help with raising VC funding, manufacturing or distribution.
Our program is not right if you're looking to market solely to a local audience and have no plans of expanding your reach online.
This program isn't a good fit if you are hoping Harry Potter will show up, say a few magic spells and you will be on your way to makin' money. The Strategy Academy is for people who are ready to take real action, make big changes and be consistent with their approach over time.
The Strategy Academy is not for someone wanting to get rich quick. It's about being rewarded for being awesome over time - again, by putting in the time and effort.
Is The Strategy Academy just for women entrepreneurs?
While traditionally our students are by majority women - this isn't a women's only club. All the strategies and formulas apply regardless of your sex. And absolutely everyone is welcome inside the program.
How much does it cost?
The tuition is $1997 (when you pay in full). Payment plans are available upon enrollment.
By comparison a graduate degree or MBA program could cost you anywhere from $80,000 to $140,000 or more and take you years to complete.
With the Strategy Academy not only will you complete this program in weeks instead of years, but you will come out with knowledge many colleges don't even cover or include outdated technology in their curriculum.
The Strategy Academy not only walks you through the tactics and strategies that you need, but gives you the technical trainings you need to be successful with these tools.
Do you offer any refunds or guarantees?
We DO NOT offer refunds in the traditional sense on our Strategy Academy program.
Please note: If you opted for a payment plan, you are required by law to complete your payment plan. We reserve the right to seek recovery of any monies remaining unpaid via our Collection Agency.
CONDITIONAL GUARANTEE
We offer a 30-Day Conditional Guarantee. We do not offer refunds.
To request consideration for the Guarantee, Clients are required to complete the course, attend the coaching calls (or watch the replays), and submit a Debrief from any of the strategies taught in Strategy Academy.
Please note: All returns and refunds are discretionary as determined by our support team If you have any questions, contact us at hello@bossproject.com.
As mentioned above, all returns are discretionary. If you just downloaded the materials (PDFs, audios, videos, additional workbooks, and/or etc.), and then promptly asked for a return, we reserve the right to deny your request. Why? Because the point of the policy is to give people the chance to try our program, and if it doesn't work, they can get their money back. It wasn't designed to enable people to steal the materials.
Bottom line: you are required to do the work upon purchase. Why? Because that is the only thing that's going to show you any results and progress in your business.
What types of payment do you accept?
We accept all common credit and debit cards including Visa, Mastercard and American Express. For payments made in full, we can also accept PayPal. We do not accept checks or invoices at this time.
What if I don't have a business yet?
No problem. The Strategy Academy will show you how to develop your dream idea, get legal and test if your passion can be profitable.
Included in your tuition is a bonus, The Small Business Workbook. Inside we will walk you through 21 steps so you can tackle some of your biggest questions right away, like:
Will my idea actually sell?
What type of business should I be?
Where do I even start?
Then inside the course you will get additional clarity by defining your why, setting up your first product and taking it to market quickly.
If you don't have a clear business idea, we will help you go with what you know and later pivot to your passion. But remember this program only works if you do. So make a choice and stick with it.
My business is different - will this work for my industry?
We're proud to have thousands of students across hundreds of industries.
From web, wedding and writing to fashion retailers, calligraphy shops, energy healers, app developers, makers, coaches and every visual art you can think of. The range of diverse experience among these creatives is what makes our tribe so unique.
No matter what you sell, you have to understand how to clarify your offer, create additional value and convert fans to buyers.
Today people want to buy from people. We'll show you how to become the face of your business, create those meaningful connections and later automate the process so you can continue to scale as your business grows.
Can't I just learn all this online for free?
You could. Scientists have estimated there are 4.66 Billion web pages and more than 40,000 Google searches every second.
Information is awesome! But if you don't know what you need to know, where to look or how to apply it to your business then all the information in the world won't help.
The Strategy Academy will fast-track your growth and save you years of expensive trial and error. Doing this alone is overwhelming and time consuming. So we made you a roadmap. A plan of action. A tried-and-true system to follow so you can feel confident about the future of your business.
Okay, what about accountability?
We're not much without it as business owners, right? Strategy Academy has a built in accountability portion, and you'll be encouraged to form a small group of 3-5 students inside our private community . These pods are your chance to get even more out of the program: meet up virtually with your group to go through the curriculum side-by-side and hold one another accountable to the goals you'll set inside the program. Past students have loved this portion of Strategy Academy—and some groups STILL meet up as their own mastermind!
Will this work if I'm outside of the U.S.?
Absolutely! We've had students from around the world. The foundations of business you'll learn are universal.
While we can't be sure of every law, rule and regulation in your country - the principles remain the same.
Will I get feedback directly from Abagail & Emylee?
While this is ultimately a group program, you will have access to guidance and support from the whole Team at Boss Project.
You'll have guaranteed individual feedback and attention every month during our coaching calls where you will have the opportunity to interact with Abagail and Emylee.
Will I get a certificate or official course credit?
Nope. At this time the Strategy Academy cannot be taken for credit and will not grant you any sort of certification. This program is meant to stretch you and your business, it is for you - not for you to prove something to someone else.
Can my partner and I take The Strategy Academy together?
The Strategy Academy grants you one license upon enrollment. That license may be used for an individual or a partnership. If you would like to grant access to your partner, please enroll yourself as an individual and then email hello@bossproject.com with a copy of your receipt and the name and email address of your partner as well as the name of your business for our records.
So I want to KNOW this stuff, but how can I know I have time for this?
Great question! While we don't know your schedule exactly we can assure you that you'll be able to devour these soundbites easier than we can devour a box of Girl Scout cookies. We've broken everything down into easy to understand strategies, formulas and processes (you literally copy and paste our process). So you can catch this baby NOW and then reference any time you need it - while you workout, during naptime, as you heat up your cold cup of coffee or just binge listen one night and get it done. Totes up to you.
I already have a profitable business. Is this for me?
Hands down - we created content for people just like you! In fact we have already ran 7 profitable businesses and have used these same principals to stretch our financial goals and achieve even greater results. Our motto is "tweak and repeat". Nothing is ever perfect, but with enough testing and tweaking you can do whatever you set your heart and mind to.
But, I'm a creative! I'm supposed to be a frazzled hot mess!
Oh, yeah? How's that working out for you? We wouldn't share the Strategy Academy if we didn't know that there is a better way. You do not have to be a fly-by-the-seat-of-your-pants creative anymore. That typically doesn't lead to a whole heck of a lot and it's probably why you're on this course page anyways. Trust your gut, believe that it can be better.
Can I really create a full-time income with my creative business?
Absolutely!! If you put the work in, doing this full-time is completely a reality. In fact we support two families with the income from our creative business and over a dozen part-time contractors. You too can build the financial security you are looking for.
How long do I have access to this course?
Does lifetime access sound like a good deal to you? After enrolling, you have unlimited access to these courses for as long as you like - across any and all devices you own.
Curl up with a coffee mug and a fresh notebook, and watch at your own pace. You can work through the class in the 8-week system we planned for you, or pace yourself out! We know our students have different schedules with their families and businesses, so we want to make sure YOU get to feel like the boss when it comes to watching whenever you want.
Can I start the course at a later date?
Yes - by signing up today you are getting lifetime access. So you can start, stop, pause, go whenever you are ready. You will have 24/7/365 access to this content from any device.
What if I'm not a tech wizard?
Not to worry! We walk you through not only the strategy, but the technical how-tos so even if you are a total novice we've got you covered. As long as you are willing to try, you will be just fine.
Can I sign up anytime?
Enrollment is only for a short period of time. Be sure to check your inbox for additional details on when the doors our closing. You don't want to miss this opportunitiy.
I have more questions, how can I get in touch?
A member of our team would be happy to chat with you and make sure this is the right fit! Email our team at hello@bossproject.com with questions, or stay on this page until the chat box pops up during operating hours in the bottom right!